Florida Gothic
FLORIDA GOTHIC—by Mitzi Szereto
(Book #1 in The "Gothic" Series)
(Read an excerpt)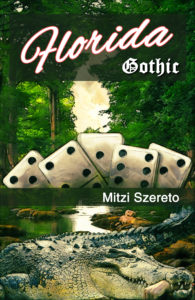 Stuck in a twilight world between life and death…
A hit-and-run driver leaves Ernesto Martinez to die by a Miami canal. Then an alligator comes along to finish the job.
Being dead gives Ernesto plenty of time to think. He thinks about his wife, taken from him too soon by illness. He thinks about his daughter, the victim of a drunk driver. He thinks about his death as he watches his body slowly decompose.
Most of all, he thinks about injustice.
The meth head ex-con living in the Everglades. The judge enjoying retirement on the Gulf Coast. The son of a Colombian drug kingpin partying in South Beach. These men care nothing for the pain they've caused. But they'll soon know what it is to feel pain.
Set against the sweltering bug-infested backdrop of South Florida, Florida Gothic weaves a darkly unnerving and visceral tale of sex, drugs, crime and vengeance.
(Book 1 in The "Gothic" Series from Mitzi Szereto)
Praise for Florida Gothic
"Mitzi Szereto's dark night of the soul is one wild, soul-blasting old mother of a trip, plus maggots, cockroaches, and cocaine. Solid, slippery, bug-eyed fun."—Peter Straub, Interior Darkness: Selected Stories
"From gators with a taste for human flesh to a meth-addled son of a drug kingpin at the wheel of a Hummer, Mitzi Szereto's Florida Gothic exposes the world of South Florida's seediest through the rotting eyes of a revenge-driven corpse. Raunchy, gory, and impossible to put down! Follow the 'Pied Piper of cucarachas' at your own risk!"—Lucy Taylor, The Safety of Unknown Cities
"Mitzi Szereto's Florida Gothic is like an alligator—quick, powerful and primal—once it has you, it will not let go!"—Mark Onspaugh, Deadlight Jack
"Look out readers! Florida Gothic will shock you to your core. Mitzi Szereto carefully guides us through the very nasty underbelly of the darkest of Miami's dark side in a gritty tale where love is scarce and violence rules 24/7. It takes a highly skilled, intelligent writer with impeccable control of her craft to keep me glued to the page, and I was. This first in a series plunges headlong into the sinister minds of high-and low-life criminals, and the soul of the tormented, preyed-upon protagonist who is hell-bent on revenge. Recommended? Absolutely!"—Nancy Kilpatrick, Revenge of the Vampir King; Sacrifice of the Hybrid Princess
Read the blog post at Errant Ramblings!
Watch the book trailer!