Pride and Prejudice: Hidden Lusts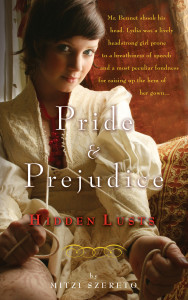 PRIDE AND PREJUDICE: HIDDEN LUSTS—by Mitzi Szereto
(Available in trade paperback,e-book and audio)
Pride and Prejudice: Hidden Lusts – the original Jane Austen sex parody!
(Read an excerpt)
Imagine that Jane Austen had written the opening line of her satirical novel Pride and Prejudice this way: "It is a truth universally acknowledged that a single man in possession of a good fortune must be in want of a good romp and a good wife—although not necessarily from the same person or from the opposite sex." In Pride and Prejudice: Hidden Lusts, the entire cast of characters from Austen's classic is here, caught with their breeches unbuttoned and their skirts raised high in this rewrite that goes all the way – and then some! Mr. Darcy has never been more devilish and the seemingly chaste Elizabeth never more turned on.
In this no-holds-barred account, men are not necessarily the only dominating sex. This time Mr. Bingley and his sister both have designs on Mr. Darcy's manhood; Elizabeth's dear friend Charlotte marries their family's strange relation, discovering that her husband's pious nature extends to worship of a different sort; and, in this telling, Lady Catherine de Bourgh takes the disciplining of those in the parish very seriously. As for the handsome Mr. Wickham, he's wickeder than ever! And of course there's plenty of good old-fashioned bodice ripping that shows no pride or prejudice and reveals hot hidden lusts in every scandalous page-turning chapter. This is the book Jane Austen would have written, if only she'd had the nerve!
"An X-rated homage to Jane Austen's classic."—Glamour UK
"Thank God for Mitzi Szereto! Now the literary purists have someone new to go after with their pitchforks. Adding zombies to Pride and Prejudice was one thing, but SEX SEX SEX? It's sacrilege! Raunchy, hilarious, subversive sacrilege . . . which is the best kind, of course."—Steve Hockensmith, author of Pride and Prejudice and Zombies: Dawn of the Dreadfuls
"If Jane Austen can survive the onslaught of zombies, she can surely swoon all over at the thought of Mitzi Szereto's witty and explicit new exploration of her classic novel. A sexy hoot!"—Maxim Jakubowski
"Readers familiar with Austen's story will laugh (and blush) with delight as their favorite characters shed their mild mannered exteriors (and clothes) and succumb to passion."—San Francisco Book Review
"Wicked, tongue in cheek (and elsewhere) take on Pride and Prejudice—a wild, funny, sexual romp. Austen is shaken up, sexed up, and stirred up in Szereto's naughty, laugh out loud, exuberant homage to P&P."—Janet Mullany, author of Jane and the Damned
"Instead of living happily ever after, Elizabeth and Darcy have faced murderers and zombies. Now Mitzi Szereto gives the classic novel an erotic work-over. It's not just bodice ripping, but Szereto has thrown in a sprinkling of gay desire and BDSM as well."—Hot Press (Ireland)
"If Jane Austen had drunk a great deal of absinthe and slipped out of her petticoat . . . Mitzi Szereto's erotic parody of Pride and Prejudice might well be the result!"—Susie Bright
Visit: Pride and Prejudice: Hidden Lusts
Watch the book trailer!