The New Black Lace Book of Women's Sexual Fantasies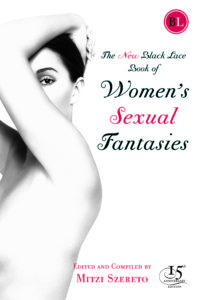 THE NEW BLACK LACE BOOK OF WOMEN'S SEXUAL FANTASIES—edited and compiled by Mitzi Szereto
(Available in paperback and e-book)
As part of their 15th anniversary, Black Lace has created this groundbreaking new book to reveal what women today think about sex. Since the publication of the first Black Lace Book of Sexual Fantasies ten years ago, the erotic landscape has changed massively. Sexual habits, lifestyles, opportunities and possibilities for women have been affected by a whole range of new influences, technologies and media. So Mitzi Szereto has spent one year collecting and reading thousands of questionnaires posted to Black Lace by women between the ages of 17 and 85, from a diversity of backgrounds all over the world
The result is an upbeat and explicit expose of contemporary female sexuality in Britain and beyond. This new no-holds-barred collection of authentic erotic confessions is a fascinating insight into the diversity of the female imagination and is guaranteed to be an education as well as a turn-on. From the sweetly vanilla to the wildly and wickedly rough, this collection will dispel any notions that women's sexual fantasies are in any way typical!
Mitzi Szereto, one of the world's best known editors and authors of erotica.
"A compulsory text for all those who want to know what really turns women on."—Forum
Buy now:
USA:
Amazon
Barnes & Noble
Books-a-Million
Indie Bound
UK:
Amazon UK
Book Depository
Eason (ROI)
CANADA:
Amazon Canada
Chapters/Indigo
AUSTRALIA & NEW ZEALAND
Amazon Australia
Fishpond Australia
Fishpond New Zealand
EUROPE:
Amazon Germany
Amazon France
Amazon Italy
Amazon Spain
Amazon Netherlands
FAR EAST:
Amazon Japan
LATIN AMERICA, INDIA & REST OF THE WORLD
Amazon Mexico
Amazon Brazil
Amazon India